2019-07-22 
vBoxxCloud version v2.7.1
Release date: Coming Soon
vBoxx is pleased to announce vBoxxCloud v2.7.1, our latest release of vBoxxCloud, which includes important improvements and updates related to performance and user experience. 


Note: With the release of v.2.7.0, vBoxxCloud no longer supports operating systems, like Windows Vista, Mavericks v.10.9, and Yosemite v.10.10.  
Features:
A new sync status report is available for easier identification of the current files and folders on a given device or computer. See an example of this report here:

Improvements
Coming Soon: "Partially" selected folders: 
In previous releases, Selective Sync settings allowed a user to deselect entire folders that should not be synced, in order to conserve disk space. In this release, users have even more control over which items get synced, by using "partially" selected folders.  Previously, all new subfolders added to a folder would automatically sync. Now users select which new sub-folders will be automatically synced,  further conserving space on user machines. 
When a folder has been marked as "partially selected",  any new subfolders added to it must be designated with a check in order to be synced. 
A red check mark indicates that all subfolders within that checked folder will be synced.
A folder is designated as "partially selected" with a red square:




In the example above:
The folder 

SyncedTool 2.7.1 is de

signated as partially selected. Thi

s means only designated folders contained within it will be synced.

The folders 

Research and Work in Progress have been marked as fully selected, with a red check mark, so all folders within those folders will be synced.

The folder 

Presentations is designated as partially selected.

The subfolder Presentation 1 is designated

 as partially selected.

 Only the selected folders will be synced, even if a new folder is created by another user. 
 
More Improvements
The Synced Tool for macOS installer is upgraded to 64-bit, as part of future-proofing compatibility with upcoming releases of the macOS.

Improved fault 

tolerance and resilience means sync will resume faster in cases of network interruption, enhancing performance with unstable network connections.

If file server enablement 

root folders are recognized as deleted or missing, the  'Unlink' warning resolution option is no longer present. This will help to avoid accidental unlinking by a regular user, while still allowing an admin to unlink from the Web UI.

A warning message notifies a user 

when a file cannot be synced. (For example, because it is being used by another program, or is read-only). The message will prompt the user to resolve the issue.

An error message alerts 

a user when the Synced Tool is not able to establish a secure connection.

When permissions 

have changed, syncing is now faster because of improved performance when applying Windows ACL updates.

We've resolved an issue with deleting 

folders using SyncedTool for Windows. Deletion did not occur in cases when the Windows "Read Only" attribute was set to 

True.  The 

"Read Only" attribute is now removed when a folder deletion is needed. 
Fixes
GUI freezing in some cases is fixed.
MacOS GUI 

and icon overlay related issues are resolved.

Various file 

revision errors are resolved with the macOS.

Issues related 

to handling Windows ACL are fixed.

Folder selection/deselection 

(sometimes misinterpreted as deletion) has been corrected.

A collision error when files 

update during renaming or deleting is resolved.

Handling of double 

extension exclusions is corrected.
Webportal
"Open in..." drop-down menu: 

Users have new choices under the "Open in..." drop-down menu: they can choose to open in the Web Editor, in a Web Preview or using the Native Browser: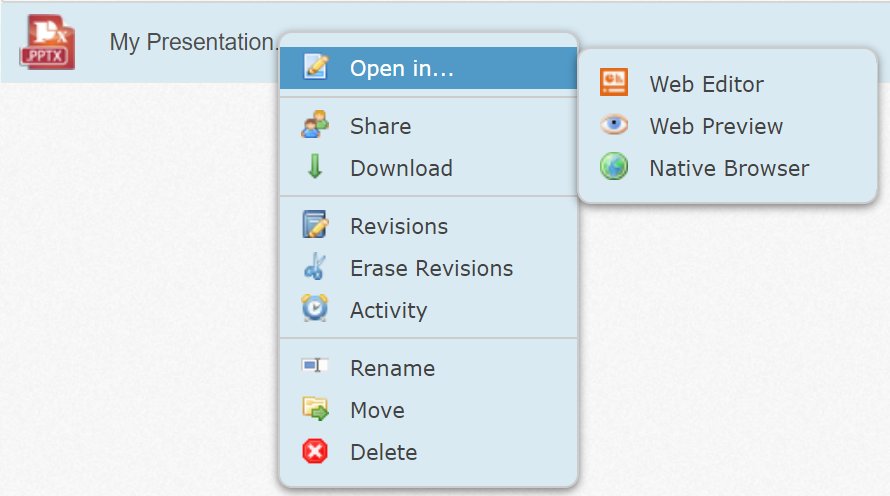 Note: To open a file in a "Native Browser", a user must have permissions to download files. This is required because the Synced Tool application must pass the file to the native browser for it to be opened with this option. The native browser downloads the file to a temporary folder to view it.
Additionally, browsers have a wide variety of capabilities when handling images, audio and video. This variation may affect the user's experience with a native browser. (Learn more about the file formats supported by browsers on this Wikipedia page.)
Standard User Improvements: 
A notification is 

sent via email to the share link creator when a share link to files 

or

 folders expires. (Previously the notification was implemented only for files.)

Web interface 

performance is improved for users with many team share subscriptions.

The drag and drop 

upload procedure is improved, increasing the upload success rate.

If access 

is denied due to insufficient permissions, users receive a message reflecting the specific action attempted (rather than a generic access-denied message).

Local languages 

are now supported in the Permissions interface.
A confirmation 

message is displayed when a share link is activated.

403 error no longer occurs when a user who is subscribed to a Team Share as a "Viewer" opens a file from the "Search Results" page"


Administrator Improvement:
Administrators 

can manage an account's group memberships from the Account Settings page, including adding and removing accounts to multiple groups.

A new filter 

on the 

Admin web portal (under Machines) shows all machines with file server enablement mapping:






To avoid 

accidental mapping disablement, a confirmation prompt appears when a request to disable file server mapping is submitted.

Administrators 

can see the permissions of a given user within a given Team Share.

Details 

related to external subscriber machines are hidden. This is necessary because administrators 

use the machine name as an identifier when 

unsubscribing a specific machine belonging to another organization from a Team Share. Exposing detailed information about machines outside of the administrator's organization is a security concern so details are now hidden.

When 

a Team Share's subscriptions are changed, the dialog box shows only the changed subscriptions.

When working 

with CSV importing, the confirmation dialog includes the permission role settings of new subscribers, to provide better visibility of the permission roles assigned to imported accounts. Additionally, the output format has been refined.

Changes made to Team Share subscription 

roles are added to the activity logs. It is now possible to see who was previously subscribed to a Team Share as well as their assigned permission role. Additionally, it is possible to view who changed a permission role and when the change occurred.

When mapped folders 

are disabled from the Web UI, a new activity log entry is created to provide information about the disablement. This is helpful in the case of multiple admins, so that one admin can follow up (as needed) with another admin as to why particular instances of FSE mapping were disabled.

Local languages 

are now supported in the Permissions interface.
Issue with space 

quota calculations on Dashboard statistics is fixed

Acitivity log filter 

ow shows 

all

 user activity from the Web UI, Synced Tool for Desktop and Web DAV (not just from the Web UI)

Unexpected 

changes when setting organization policies have been eliminated
If you would like to learn more,
you can schedule a free 1-on-1 demonstration here.
Please contact your Account Manager or vBoxx Support if you have any questions. Thanks,
The vBoxx Team