Pausing the Sync Client
Users have the option of pausing a sync process from the desktop client. This feature is useful when users want to conserve bandwidth, when they are working without an Internet connection, or when they want to work in isolation. 
Note: The Sync Client will automatically pause a sync process when disk space is detected to be below 1GB.
Instructions
To pause a sync from a Windows or Mac workstation:
1. In the system tray, click the Synced Tool icon. The Synced Tool menu displays.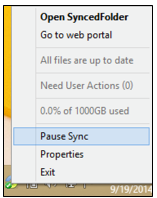 2. In the Synced Tool menu, click Pause Sync. The Pause Sync option will now appear with a checkmark next to it, and will remain paused until this setting is unchecked.