Benefits of WebDAV:
No need to install desktop clients;
Shared files are not stored locally;
Folders and Files are accessible through the i.e Windows explorer;
Supports authentication through Active Directory login credentials;
Can be enabled for all users of an organization or per user. 
 
Limitations of WebDAV:
While it provides a number of benefits, it's important to note that WebDAV is an extension of the HTTP protocol, unrelated to the vBoxxCloud system.
Microsoft Patches to avoid: Microsoft update KB3101521,Microsoft update KB3008923,Microsoft update KB3055034,Microsoft update KB3054886, visit Microsoft Support for more information
Limitations: No access to vBoxxCloud's context menu (right-click menu)
File-Locking: 
    - Files cannot be locked or unlocked from WebDAV.
    - If a Team Share is locked, users cannot edit files through WebDAV.
    - Files moved to the folder will be uploaded once the folder is unlocked.
Revisions: 
    - Cloud Mounter creates a series of temporary files and folders, deleting them right away after editing files through WebDAV.
    - Restoring revisions will work as long as deleted files are kept in the folder. Purging deleted files will erase revisions permanently.
---
First Activate WebDAV as an admin:
Login at https://web.vboxx.nl
Click on Organization Settings and after click the tab Accounts.
In the Accounts page, find the appropriate user account, and click Edit Account.



 

In the Account Settings page, confirm that the box is checked.

Click the Save button when you are finished.
Setting up WebDAV on Windows 10:
 Open Windows Explorer

 Click on This PC dialog box, click the Map Network Drive button. The Map Network Drive dialog box displays.

In the Map Network Drive dialog box, configure the appropriate drive and folder:
In the Drive drop-down menu, select a drive letter.
In the Folder field, enter the URL for your environment: https://cloud.vboxx.nl
When you are finished, click the Finish button.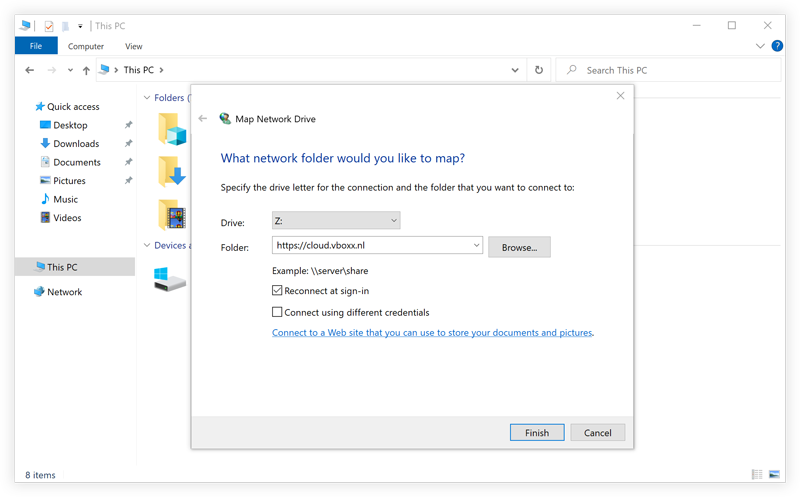 4. Enter your username and password when prompted and click the OK button.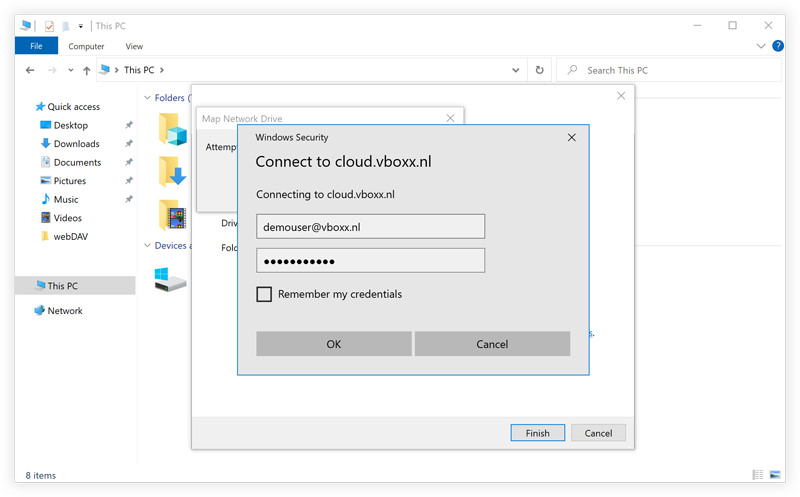 Note: If you log in with an Active Directory credential, use the format: domain \username.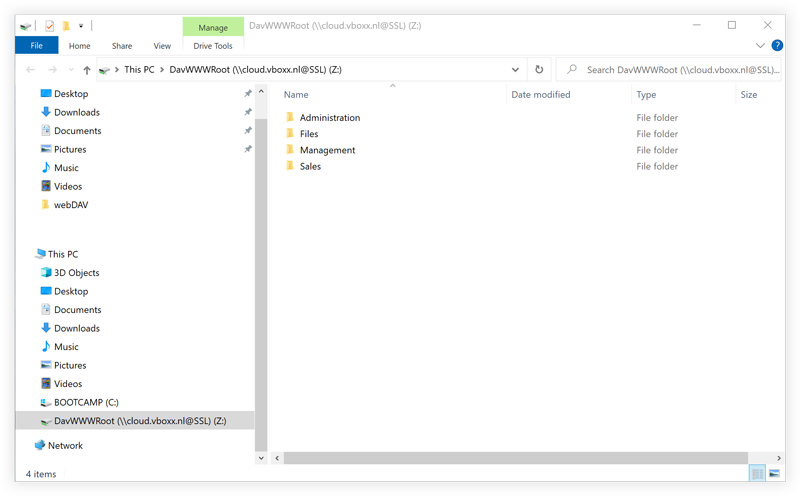 Your folders and team shares will display. You will be able to access the WebDav.
         5. To optimize your WebDAV connection, please visit Microsoft Support article.
Setting up WebDAV on macOS systems: 
Apple systems are imited in terms of WebDAV integration, we recommend using a third-party app to take full advantage of WebDAV in macOS systems.
Cloud Mounter supports vBoxxCloud which means that you will be able to benefit from features you wouldn't otherwise have access to with WebDAV.
1. First download and install Cloud Mounter for Mac.
2. After installing Cloud Mounter, add a webDAV drive with your account details, use https://cloud.vboxx.nl as a WebDAV URL.